MOS C-V MEASUREMENT AND ANALYSIS
MOS capacitance-voltage measurement is one of the most common process monitoring diagnostics employed in device manufacturing. A vast amount of information can be derived from this simple test.
The CSM/Win System gives the user a complete and powerful package for measuring MOS C-V devices and analyzing the data.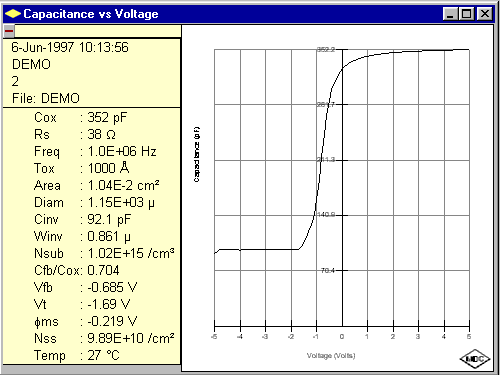 A single menu screen selects from three different data gathering modes: Swept, Retrace or Pulsed. Each mode examines the MOS device under different conditions.
The Swept Mode is most commonly used for finding the substrate doping, flatband voltage, threshold voltage, and mobile ion concentration. An important feature of the Swept Mode is the Light Flash and Stabilization which assures that the MOS device has reached the equilibrium inversion condition before the sweep begins. Since the C-V sweep begins with the MOS device in inversion, errors due to sweeping rate and inversion capacitance determination while sweeping are eliminated. The result is a "textbook" C-V plot with no anomalous glitches.
The Retrace mode shows hysteresis due to slow trapping or charge storage effects.
The Pulsed mode prevents inversion and measures the deep depletion MOS C-V data needed for doping profile determination.
Thin Oxides play a much greater roll in today's semiconductor marketplace. In samples with an oxide thickness under 200 angstroms, quantum mechanical (QM) and polysilicon depletion effects become a factor in the analysis of these devices. The CSM/Win software takes into account both QM as well as Polysilicon depletion.