TRIANGULAR VOLTAGE SWEEP (TVS) OPTION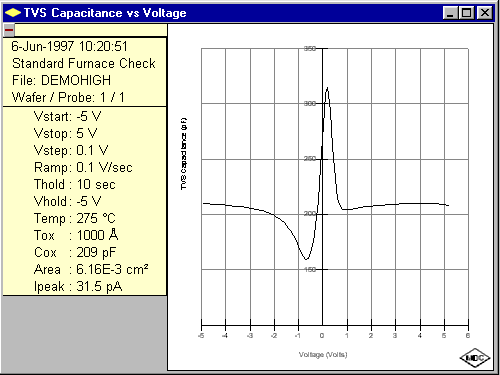 The TVS method measures the current-voltage characteristics of an MOS device at high temperature. This technique, which allows direct measurement of mobile ion movement, has higher sensitivity and is much faster than the conventional CVBT measurement.
A distinguishing feature of TVS measurements is the ability to discern individual mobile ionic species. Since the mobility of each type is different, multiple peaks can form in the TVS plot. Each peak defines a different ionic species (i.e. Na, K, etc.)
MDC uses a unique on-screen technique to accurately analyze TVS data. The MDC QuietCHUCK DC hot chuck system contributes to superior TVS data from the CSM/Win Systems because noisy AC heated hot chucks are not used. Requires quasi-static option or current-voltage option.
A production version of the TVS measurement is also available.